Jasmin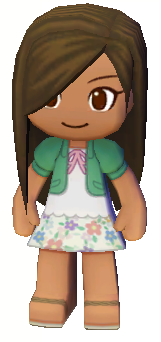 Character Info
| | |
| --- | --- |
| Townie or Commercial? | Commercial |
| Star Level | Star Level 4 |
| Role | Artist |
| Residence Name | Jasmin's Pretty Paintings |
Jasmin is a cute girl who loves painting as much as Poppy (her BFFaFLaFe) loves flowers!
Profile
Jasmin is super nice and super cute cuz' she's a super girl! She LOVES cute stuff, and food and her bestest friend Poppy! Oh, she also loves her brother Andy, but hates her other brother Anthony! Why does she paint? Cuz' it's fun!
Interests
Hates
Tasks
Task 1
Description: Hi! I wanna paint something cute! But I have nothing to paint with... Can I have an easel?
Requirements: Easel with 6 Happy
Reward: Easel- Computer
Hint: I'm so happy! Happy people like me drop happy if you're nice to them!
Thanking Dialogue: I can paint now! Yay!!!
Task 2
Description: Oooh! I've always wanted to sleep in cuteness!
Requirements: Bed with 20 Tina Dolls and 10 Amber
Reward: Flower Stand - Artsy
Hint: I love Tina Dolls! I found some on the floor of a cave and kept them! Oooh, and on my way, I saw a pretty orange diamond in the sand!
Thanking Dialogue: I can't wait to sleep in it!
Task 3
Description: I want to paint some more!
Requirements: Easel with 10 Gingerbread and 20 Purple Crayons, Easel with 10 Cakes and 20 Red Crayons, Easel with 10 Chocolate Cake and 20 Yellow Crayons
Reward: Decorative - Edible Paint
Hint: Cakes and Cookies are sooo good. Why would someone bury them in the forest?! And I saw Dolly Dearhart drop Crayons near the train and In the cave where we and Poppy found some Tina and Tim dolls!
Thanking Dialogue: Oooh! Pretty!
Dialogue
Hotel Introduction
Accept Move-In
Oooh! Really, a house, and paints?! Yes, yes, YES!!
After You Build House/First Time You Talk To Her
Oooh! This town is sooo pretty!
Request For More Stuff
Star Level 4
Pretty!!
I wonder where Andy is? He wanted me to paint some germ thing.
You know what's soo cute? A painting of flowers!
Star Level 5
This town is sooo pretty thanks to you!
I should paint the town.
I'm gonna paint an ugly picture of Anthony! But it'll be hard, he's already soo ugly!
Best Friend
Hehe! You're sooo nice! I should give you a painting of you!
Best Friend Reward